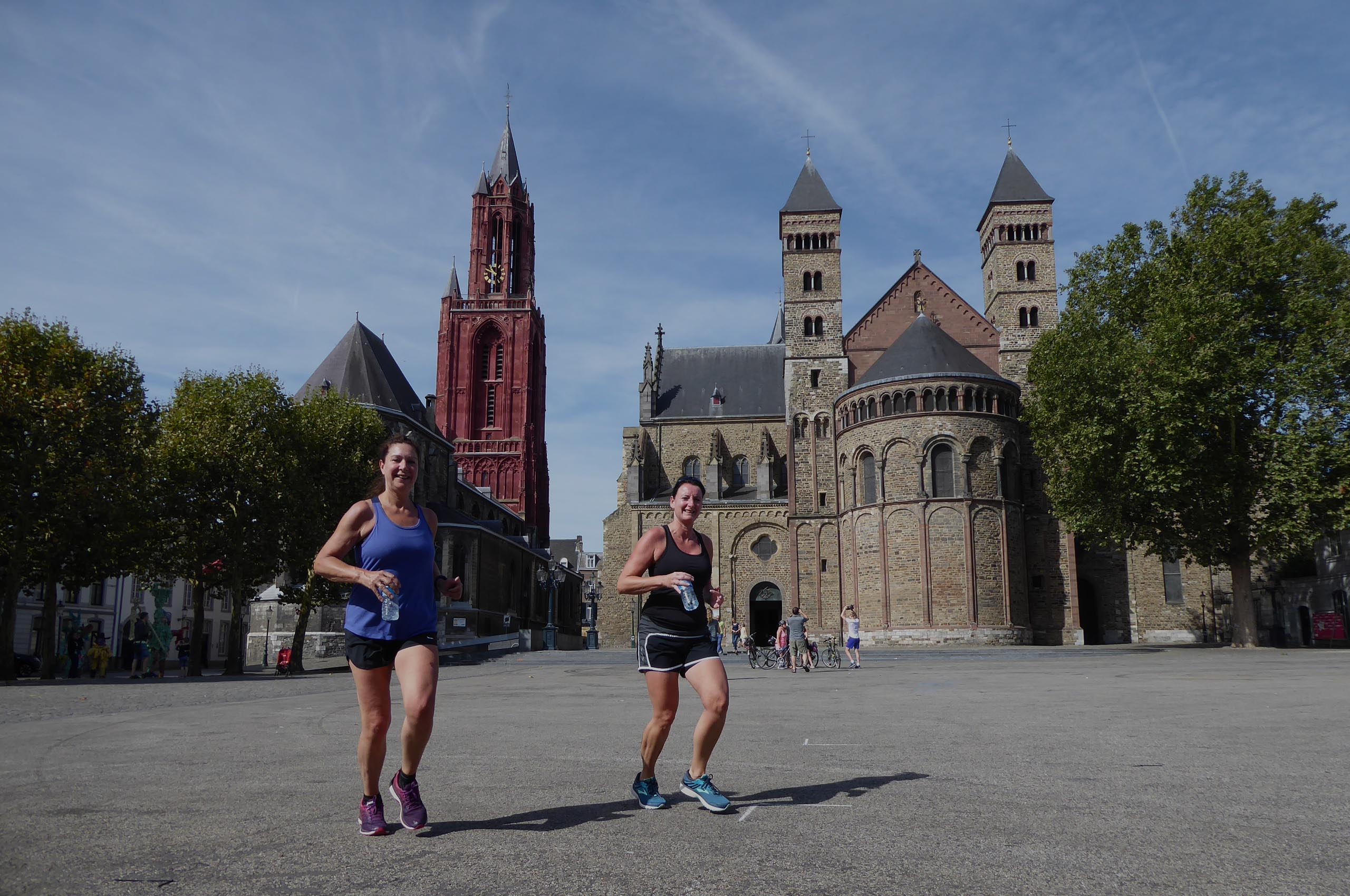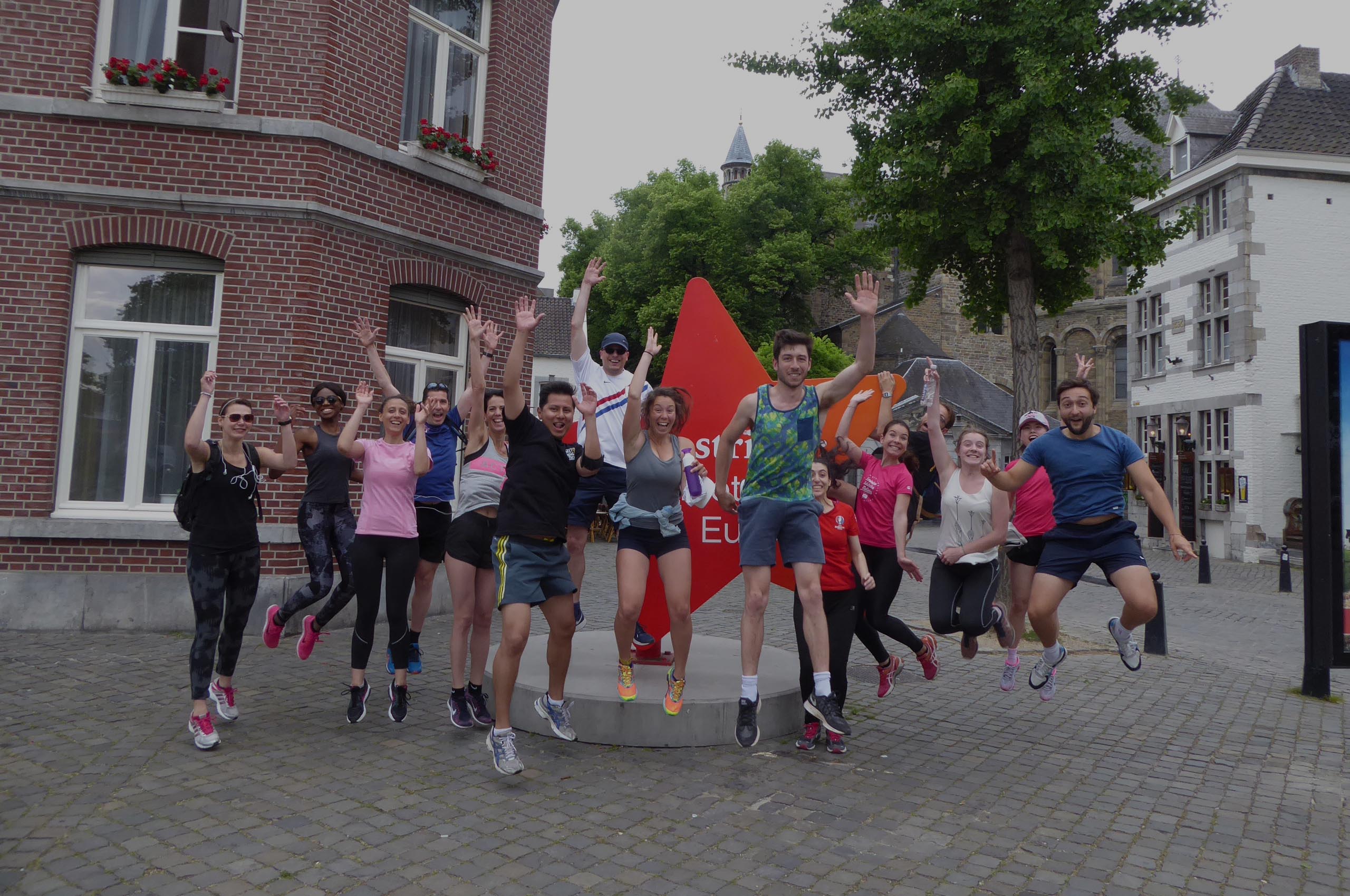 Run and discover Maastricht
Run and discover Maastricht
Combine your workout with sightseeing on this running tour of Maastricht. In a small group of no more than 12 people, jog through squares, past watermills, city walls, and more. The pace is adjusted to suit everyone and there are plenty of stops for explanations and anecdotes.
Prices: from € 35 for 1 or 2 runners and € 12,50 for each additional runner and € 90 for groups of max 8)
Start: 'Plein 1992' (outside restaurant Beluga) 
– Saturdays & Sundays at 10:00 and 
– Tuesdays & Thursdays at 18:00.  
Tours have to be reserved in advance!
Highlight tour
Our Highlights tour of about 1,5 hours (± 6 kms) takes you along the most important and interesting sites in Maastricht. This nice route in one of the oldest and most beautiful cities of The Netherlands leads you along squares and watermills, over city walls, along small picturesque alleys, old town gates and through different parks. Our tour which is nearly free from traffic, is really worthwhile!
During several short stops you get explanation about the sights, hear some anecdotes and we'll give you hints to enjoy the city best after the tour as well.
Green/Trail Tour
We offer this Green tour to people who prefer to run in nature. This tour can be 5-18 km and we take you to the beautiful hilly and cross border surroundings directly outside the city center of Maastricht.
Private XL
The private XL tour is 11 km and is the XL version of our city tour. 
Sportive and interesting tours
Welcome to the website of  Maastricht Running Tours. We are the only organization in the cross border region of Maastricht that organizes city and green running tours.
During our special guided tours in and around the city of Maastricht you see more and do your workout at the same time.
Our unique tours are meant for congress attendants (before or after the sessions), tourists, company outings, sports clubs and any other groups of individuals who may want to visit Maastricht in a different way.
The pace of the tours is of course adapted to the group.
See our great reviews on tripadvisor
The tour is one of the activities I would definitely recommend to do in Maastricht, it's easy to follow and suitable for every runner, regardless of experience. The tour offers... read more you a different perspective of the city while also doing your workout.

alinatimosenco


3/09/2021

Such a fun thing to do. I've lived in Maastricht for about a year now but didn't know much of the history. Raoul was so knowledgeable and excited to show... read more us places and tell us about the history. He not only told us about historical facts he also showed us some of his favorite places to eat and local shops he likes.
I run on occasion but wouldn't consider myself a runner. Raoul kept an easy pace that I could keep up with. Plus all the stops to talk about things made it very enjoyable.
I highly recommend to do the running tour, even if you've lived in Maastricht for a long time.

debrab595


9/01/2020

We enjoyed the tour very much, our guide Raoul made it a fun and interesting experience! We will definately book a longer tour if we come back to the south... read more of Holland.

Twingrid2020


8/11/2020

Amazing tour! We had so much fun discovering Maastricht this way, now I look at the city with a new perspective! Very insightful and fun, I definitely recommend it to... read more discover the city's history!

CynthiaMoussa


8/01/2020
Watch some highlights of our running tours