Running / Bike Tour
When your travel partner is not a runner or not able to run you do not have to miss our great running tours.
We offer the possibility to join the running tour by bike. We allow one extra bike and only in private tours or very small groups.
Get in touch with us to discuss the details.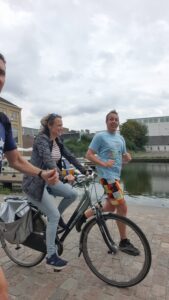 Private Walking / Bike tour
On request only we can take you (individuals & groups) on a private walking or biking tour through the city of Maastricht.
Send us a mail when and with how many people you would like to walk or bike & explore Maastricht or the beautiful hilly trails and paths around the city with us.
We are happy to host you.